What a year it's been for us all here at Cheshire's Ice Cream Farm in Tattenhall!
2022 has brought with it a recovery from Covid-times we'd all so longed for, allowing businesses like ours to fully reopen without restrictions and provide families with a safe, happy place to indulge in ice cream-themed play, whatever the weather!
So looking back over the past 12 months, here are The Ice Cream Farm's top 10 highlights of 2022.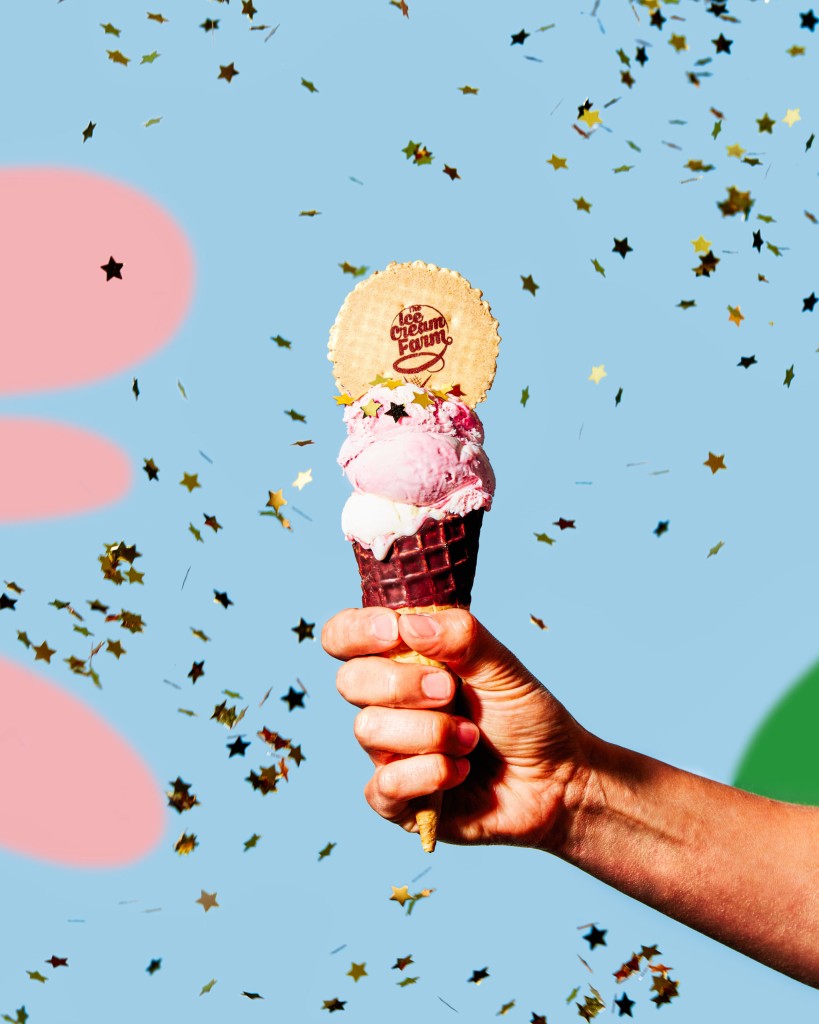 1. Opening The PlayHouse In September we reopened The Farm's stables as The Playhouse, an events space for the annual Christmas Grotto, Halloween and Easter Escape Rooms, for visiting schools and for a new schedule of exciting child-friendly events. One of the first we offered in this space was our sell-out Scien-Terrific weekend, featuring workshops to teach kids the science behind slime making and rocket launching. Follow our social pages for news of 2023's Ice Cream Farm events.
2. The World's First Ice Cream Drive In In the Summer we were so excited to reopen The Ice Cream Drive In. Featuring a new ordering system and updates to its environment, The Ice Cream Drive In was given a fresh new look in time for customers to make the most of the good weather. As well as the new ordering system and improvements to its environment, it also got some added extras in time for Christmas, including fire pits for toasting marshmallows and a menu of hot food, such as pizzas and hot dogs. Fancy visiting in January? If you're local to The Ice Cream Drive In you can use code Local20 to get 20% off your order until the end of the month! See our Facebook page for details.
3. Monthly SEN Sessions When we reopened The Ice Cream Farm post-Covid-19 we started to charge a small ticket price at Admissions for entry to our outdoor play park Daisy's Garden. By charging admission (and recommending pre-booking) we've been able to host SEN Sessions at The Ice Cream Farm – where admission is only for SEN children and their families. These have been hugely popular events, often selling out. So we look forward to putting on more in 2023 to give SEN children in Cheshire a safe, dedicated, inclusive and happy place to play.
4. Family & Friends Membership Launch In September 2022 The Ice Cream Farm launched the Family & Friends Membership, where for just £30 up to four visitors could come to The Farm whenever they liked, and as many times as they liked, in Winter. After 31st March, Members get access for up to four people in term time during the week. Plus, when signing up Members get a free £15 Play Pass with five Plays for The Ice Cream Farm's attractions; which include a soft play, indoor sand and water play, arcade games and crazy golf.
5. Hosted our first AmaSing event October saw The Ice Cream Farm host its first AmaSing event. During the creative workshop for local schoolchildren, Cheshire's High Sheriff arrived to surprise Rachael Borman, Director and Founder of AmaSing, with the High Sheriff's Award in "recognition of great and valuable services to the community". Charity AmaSing, which supports mental health in young people and communities through the arts, hosted children from 25 Cheshire primary schools for a song composition workshop at The Ice Cream Farm. The workshop saw 56 local schoolchildren create a song for the attraction alongside professional composer James Dee. The aim was to provide an inclusive and exciting arts opportunity to support wellbeing and creativity in young people from the area, no matter their needs, age, ability or background.
6. Awards for The Ice Cream Farm This year we were thrilled to be named Best Outdoor Play in the Red Kite Days Cheshire & Greater Manchester Awards and Best Family-Friendly Farm Attraction – Cheshire, in the Northern Enterprise Awards 2022 hosted by SME News. We were also shortlisted in two categories – Visitor Attraction of the Year and Resilience and Innovation – for the Marketing Cheshire Tourism Awards 2022/23. So we'll be keeping everything crossed for the finals in March 2023!
7. Giving back to our community As ever we've tried to do our bit for the local community, but this year more than ever we've pulled out all the stops to give back. Here's just a few of the ways we've supported charities in Cheshire: • Sponsorship of AFC Tattenhall junior football team (who are doing great at the moment!). • Donating raffle prizes for local school and charity events via a monthly draw. • Families who fled the war in Ukraine were treated to a day out at The Ice Cream Farm by local village group the Marbury Belles. • The staff and children of Chester's Queen's Park High School raised more than £300 in support of the British Red Cross Ukraine Crisis Appeal thanks to a donation of ice cream and donuts from The Ice Cream Farm. • The Ice Cream Farm donated 90 1-litre Cheshire Farm Ice Cream tubs, worth £8 each, to the Lache Larder, Cheshire Food Hub in Northwich and Nannie Biscuit.
8. The BBC came for a visit In September we were very excited to welcome the BBC News team, who interviewed CEO Jonathan Fell about the cost of living crisis, and how inflation and high interest rates are impacting The Ice Cream Farm and its visitors. Jonathan and his wife were also welcomed to Radio 4's studio for an interview on the Gap Finders programme. You can hear it in full here.
9. Exclusive Cheshire Farm Ice Cream Flavours In the world's biggest ice cream parlour at The Ice Cream Farm we launched more exclusive flavours from Cheshire Farm Ice Cream! Pay a visit to try 'Frozen' – inspired by the Disney movie – or how about the delicious Maple&Pecan?
10. Deichmann shoes 'Back to School' campaign At the start of the Summer Deichmann shoes came on site at The Ice Cream Farm with a gorgeous bunch of kids to photograph and film their 2022 Back to School shoes campaign! It was an absolute pleasure to host this lovely bunch and a treat to see The Ice Cream Farm in the backdrop of photos and videos!
So as we say goodbye to 2022 and all the ice cream fun it has brought, we look forward to welcoming you and yours in 2023 to The Ice Cream Farm.